Beard Bates is a polymath artist – a writer, musician, painter – who creates unique and imaginative works of art, sound and story. A natural born storyteller, in both music and as an author, Bates commonly weaves stream of consciousness inspiration with a clever manner of inhabiting various personalities, perspectives and voices.
Fiction
Music
Visual Art
PRESS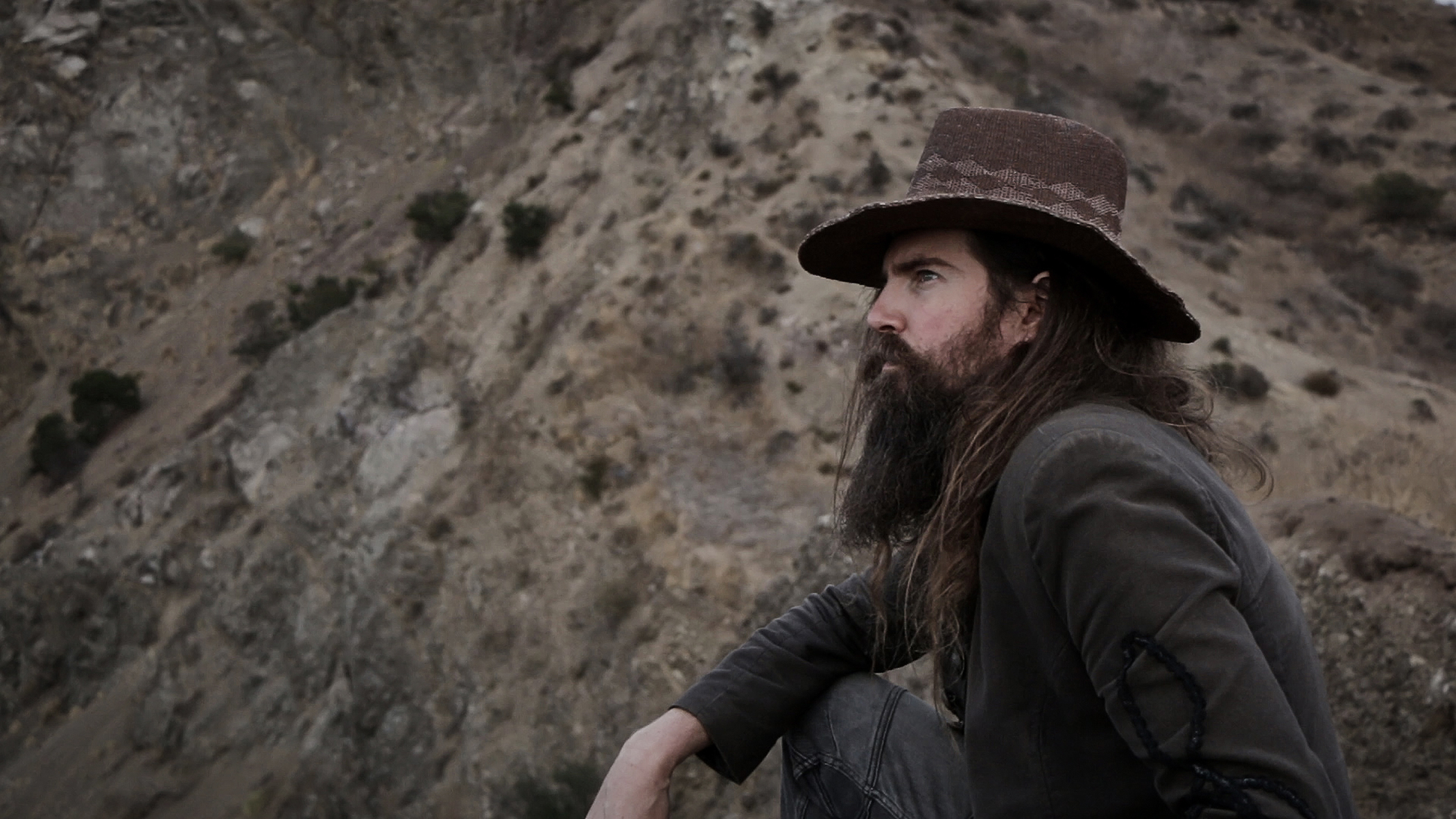 2019 Press:
Rj Frometa | https://ventsmagazine.com | music video premiere and review
"Beard Bates has creatively leveled-up yet again with the release of his new music video for the single "Bovine Divine". Shot at the much buzzed (or loathed) Museum of Selfies in Hollywood, the alt-hip-hop driven track is given an over the top visual experience that is impossible to forget, and pairs perfectly with Bates' passion for creatively bizzare awesomeness. The visuals also features guest stars Tori Ross and Brittanie Nash."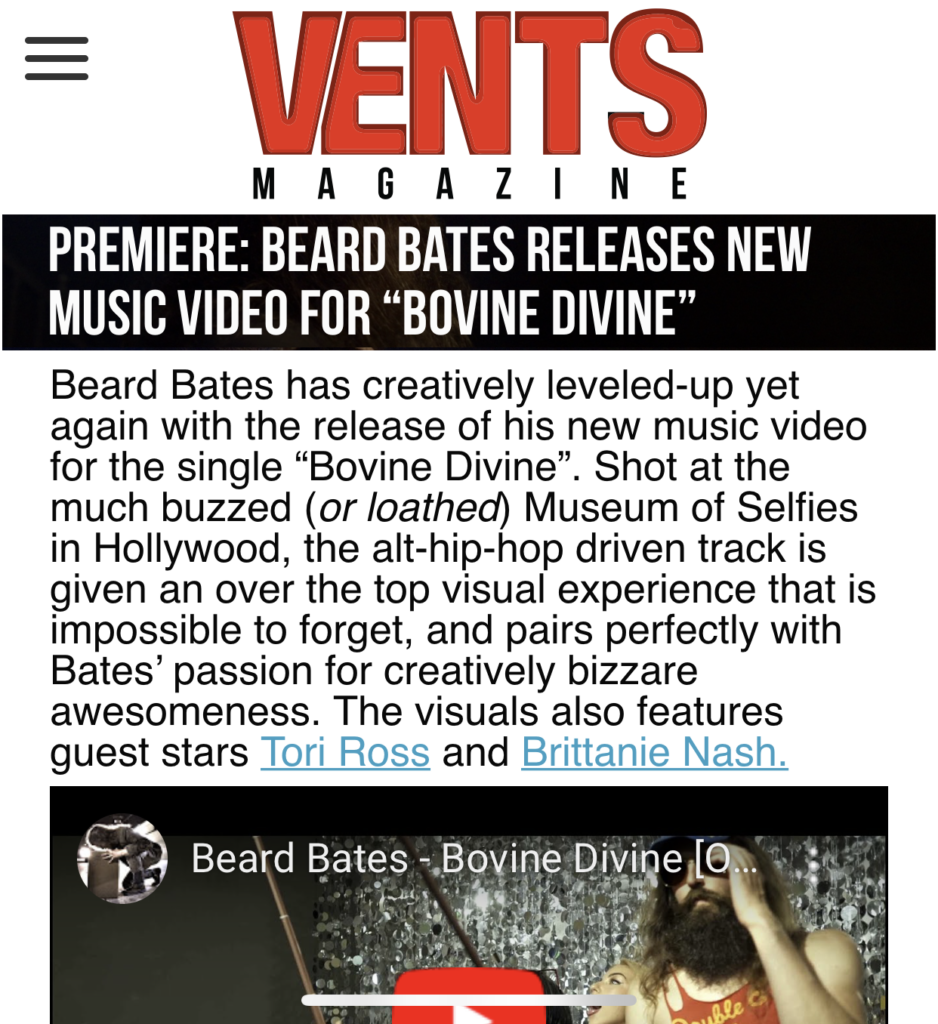 Daryl Sterdon | https://tinnitist.com | music video feature, review and #1 playlist spot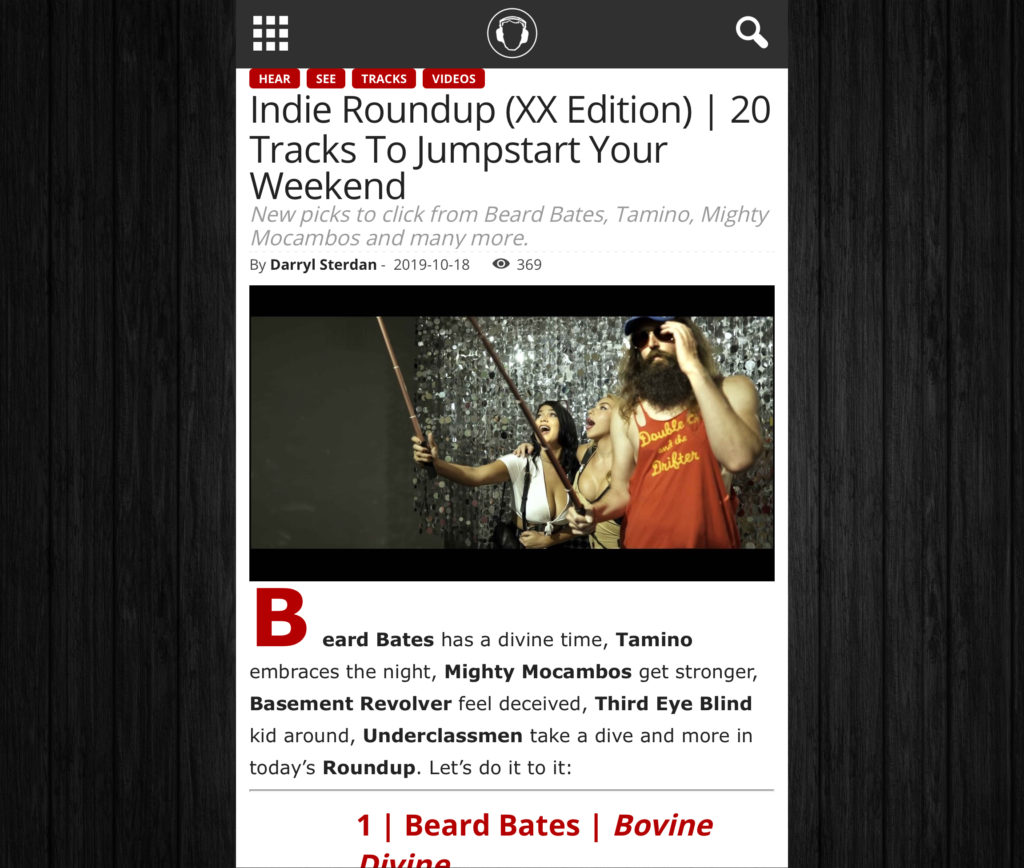 Christos Doukakis | https://lastdaydeaf.com | single feature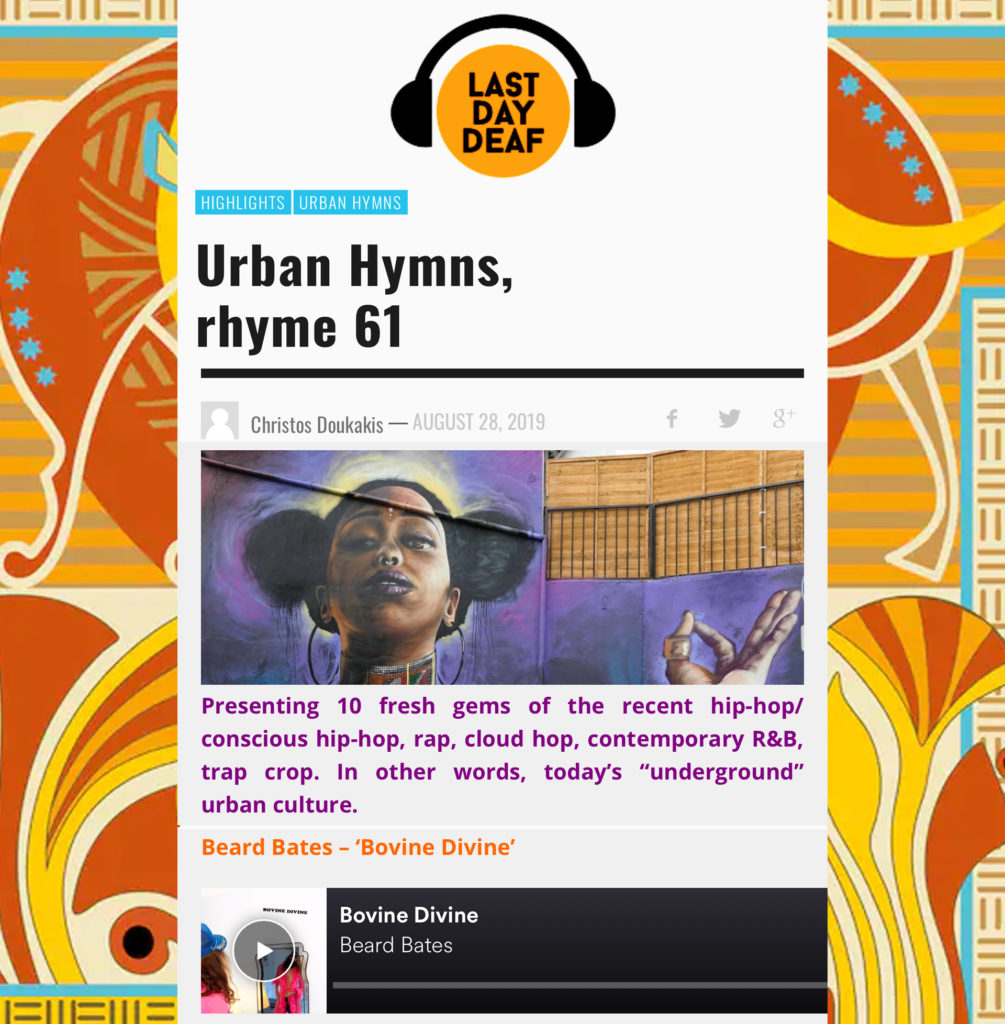 2018 Press:
Kevin Bronson | www.buzzbands.la | single premiere and review

"Bates' new single "Lions Sheep Birds" is…inspired by a near-death experience…the song offers a tapestry of buzzing effects, guitar and gently rolling beats supporting Bates' take-no-prisoners baritone. It's chilling."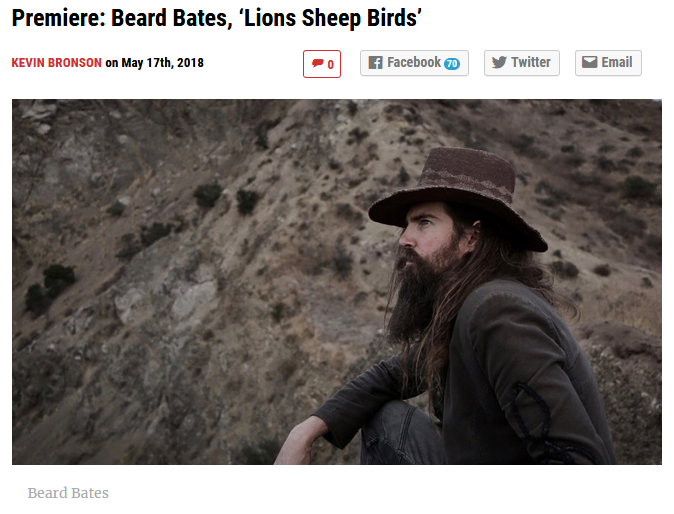 Glide | www.glidemagazine.com | video premiere and single review
"Beard Bates' "Lions Sheep Birds" is a moving back woods howler that recalls both the anguished pipes of Chris Cornell and a fervently emotive Americana side. Bates's video gives us a glimpse of a singer-songwriter with both the visual and vocal potential to become an instantly recognizable voice and figure on the indie-singer songwriter scene."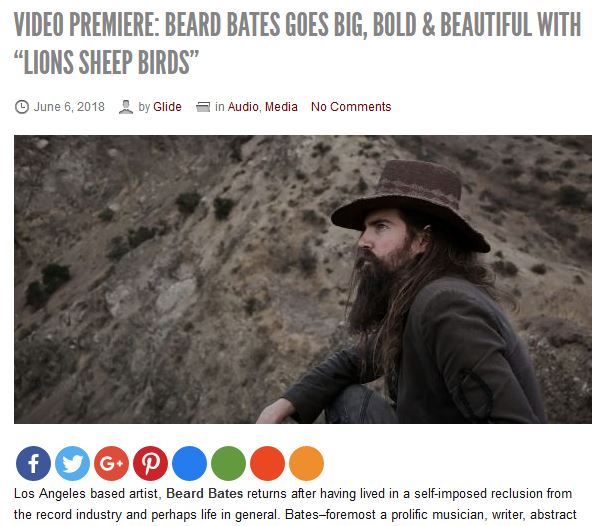 Rob Donker | www.americanpancake.com | single review
"Beard Bates has a voice that you notice right away. It is not only the low sultry register but the road worn rough around the edges tone bleeding through. "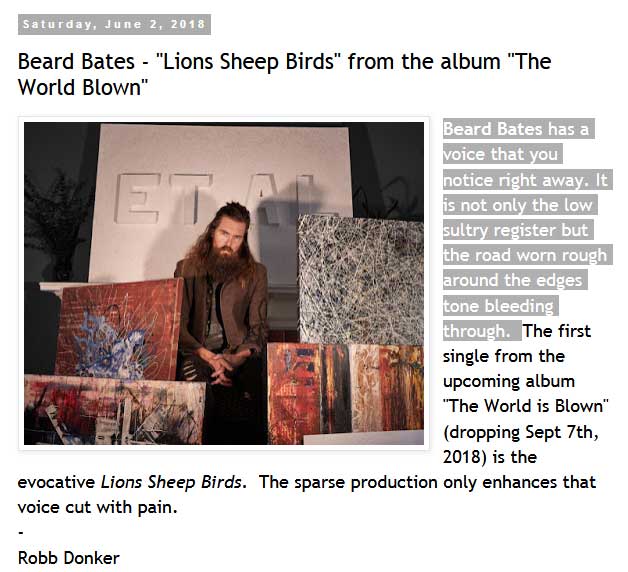 Abby Trapp | www.imperfectfifth.com | single review

"A lovesick song, "Lion Sheep Birds" weaves a story of remorse, regret, and memories. "If I could go back, you know I would/I'd come back and save you from the horrible sting."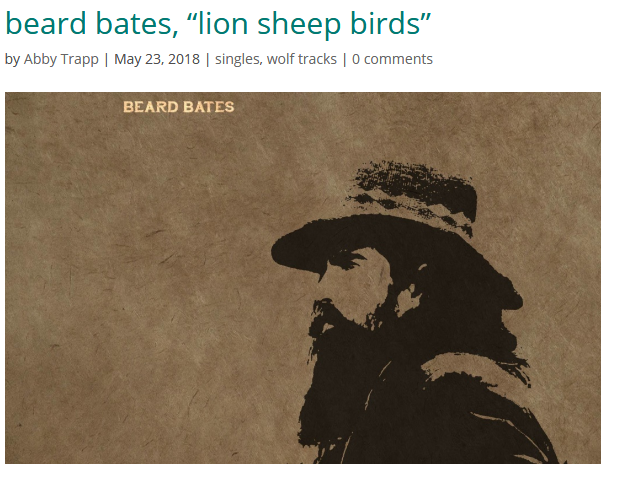 Jake Craney | www.groundsounds.com | single premiere
Beard Bates is an intriguing name to watch in the music world. Today we're thrilled to premiere his new song "Weasel Sleeping" – streaming below! This alternative rock, psychedelic western track was recorded in collaboration with The Real Spooky Wilson, an outfit that features Bates, drummer Kevin Figueiredo (Extreme, Perry Farrell, Chester Bennington, Tantric, Slash) and bassist Chris Mckee. The song jumps out at you immediately and is driven by his unique vocals. This one you'll want to play, then play again, then play even louder to really get the full effect with the lyrics….et al.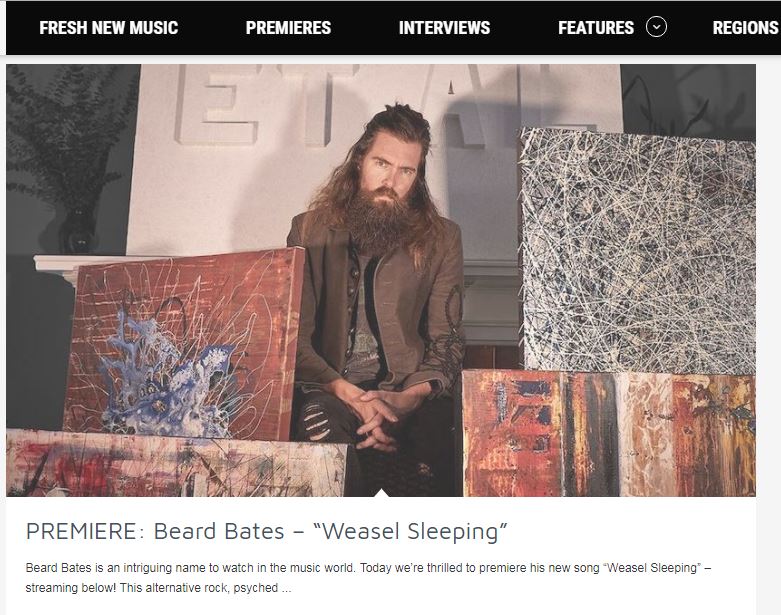 Noah Zucker | www.rockthepigeon.com | single review
'Weasel Sleeping' by Beard Bates is warm, melancholy alt rock with a Western Americana vibe. "The track was written using a lexicon of phrases specific to the 19th Century West," Bates said, "and in so doing the track tells of relationships and dreams that were either powered or destroyed by the Western Dream, by the desire for Gold, riches, freedom and expansion." Glide Magazine describes him as, "a moving back woods howler that recalls both the anguished pipes of Chris Cornell and a fervently emotive Americana side." There's something deeply nostalgic about the lyrics. At the same time, they're imbued with a confounding sense of mystery. Under that, Bates' warm, fuzzy guitar tone captures the warm, crackling aesthetic of old Western films. This guy really knows what he's doing. Check out 'Weasel Sleeping' below!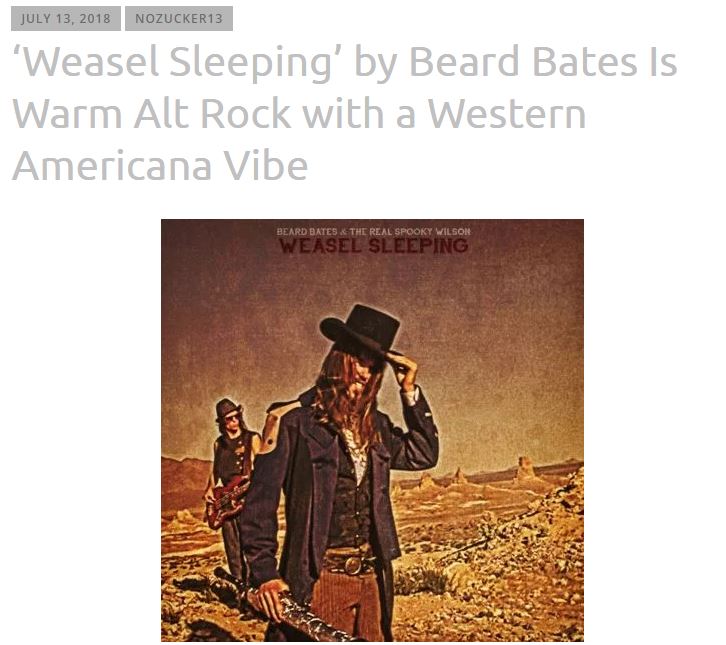 Jane Howkins | www.yorkcalling.co.uk | single review
Weasel Sleeping is the second single from Beard Bates' upcoming album The World is Blown. This alternative rock, psychedelic western track was recorded in collaboration with The Real Spooky Wilson, an outfit that features Bates, drummer Kevin Figueiredo and bassist Chris Mckee.
It's hard rock meets country, and it surprisingly works well. Usually this sort of stuff ends up sounding very post-grunge (not always great in our opinion), but Bates has managed to avoid those trappings, and Weasel Sleeping makes for a fantastic listen. There's also something that reminds us a little of the so-called 'desert rock' artists such as Queens of the Stone Age, with a psychedelic element running throughout the track.
Beard Bates' music is a little different to the rock norm – take a listen below and find out for yourselves!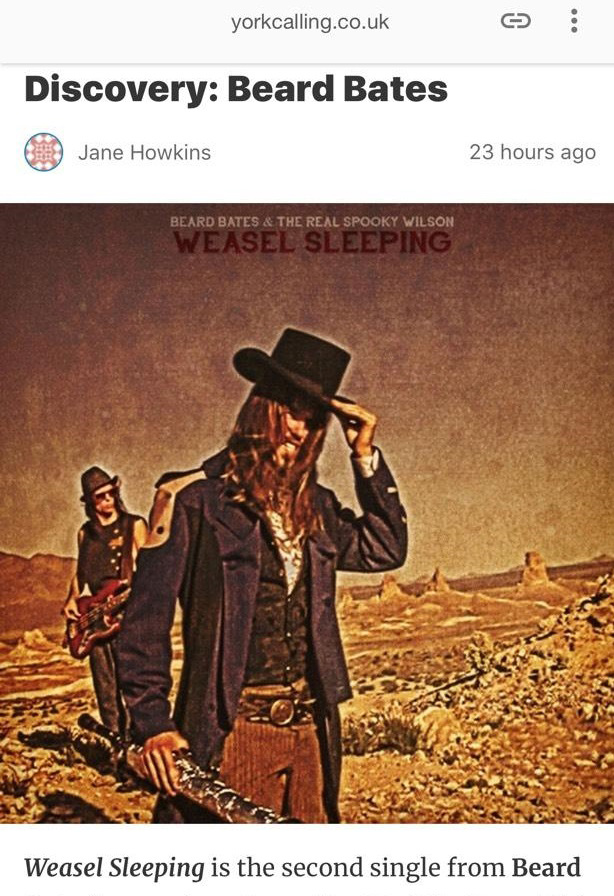 www.BORNMUSICONLINE.com | single review
"The third taste of Beard Bates' upcoming album The World Is Blown, 'The Netherworld of Love' is a blurring of all things dark, distorted, and disorientating. Emerging from a cage of chaos, a vocal line is heard singing through static. We can only snatch fragments – a fact which makes us listen all the more intently, despite the electrical buzz saw which surrounds our ears. 'The Netherworld of Love' is a land of limbo: we catch snatches of psych, elements of electro, and pieces of percussion, but all of which sound at once, creating a carnival of the chaotic. Listen if you dare!"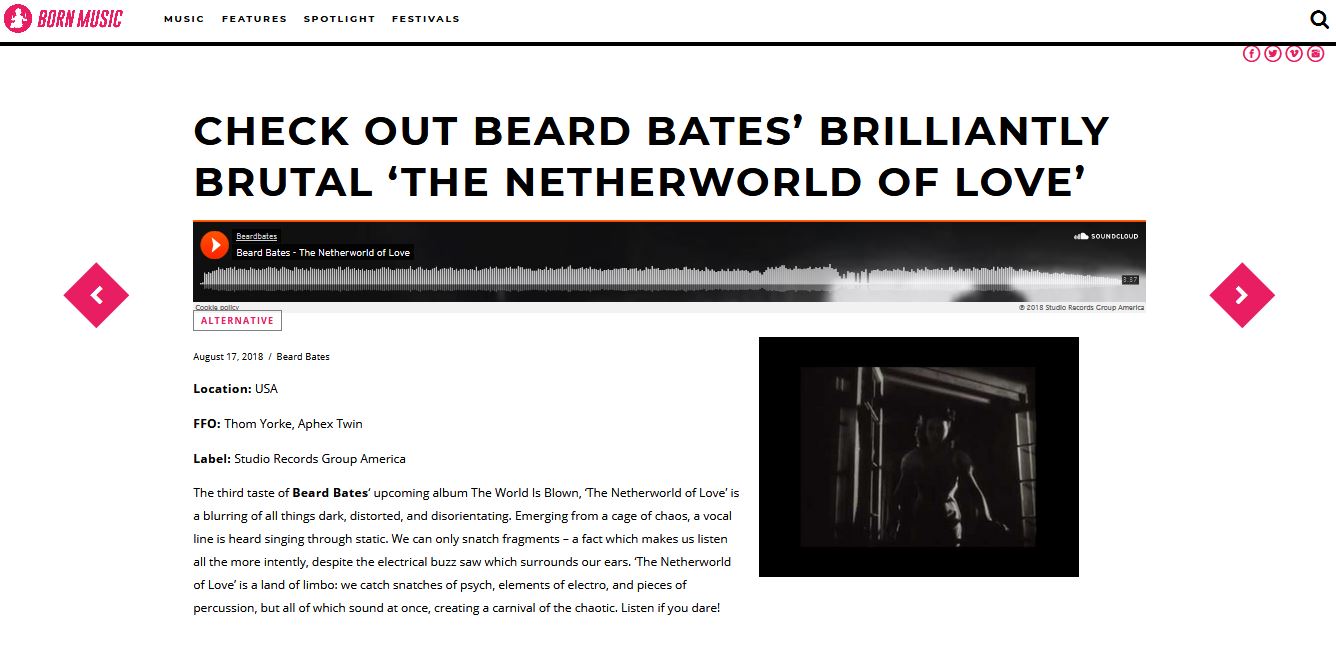 www.bluebardot.com | single review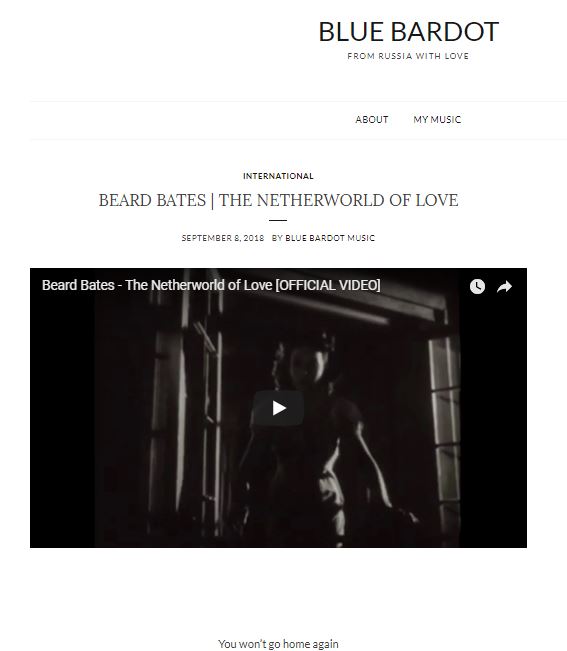 www.comeherefloyd.com | single feature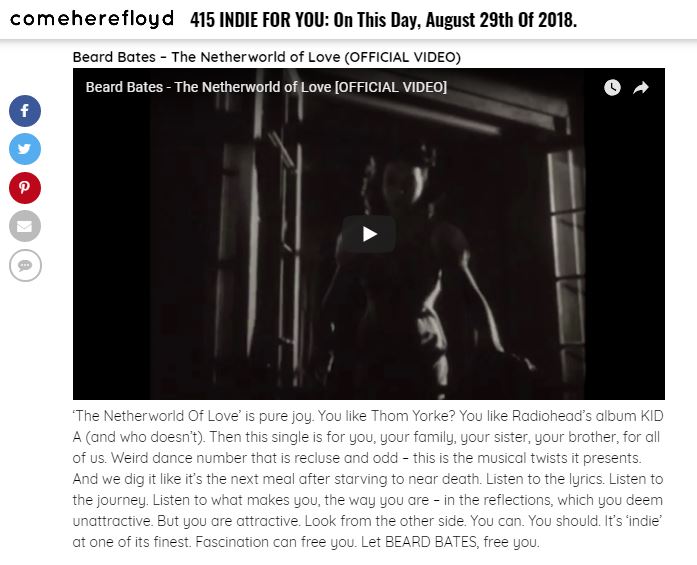 www.mysticsons.com | single feature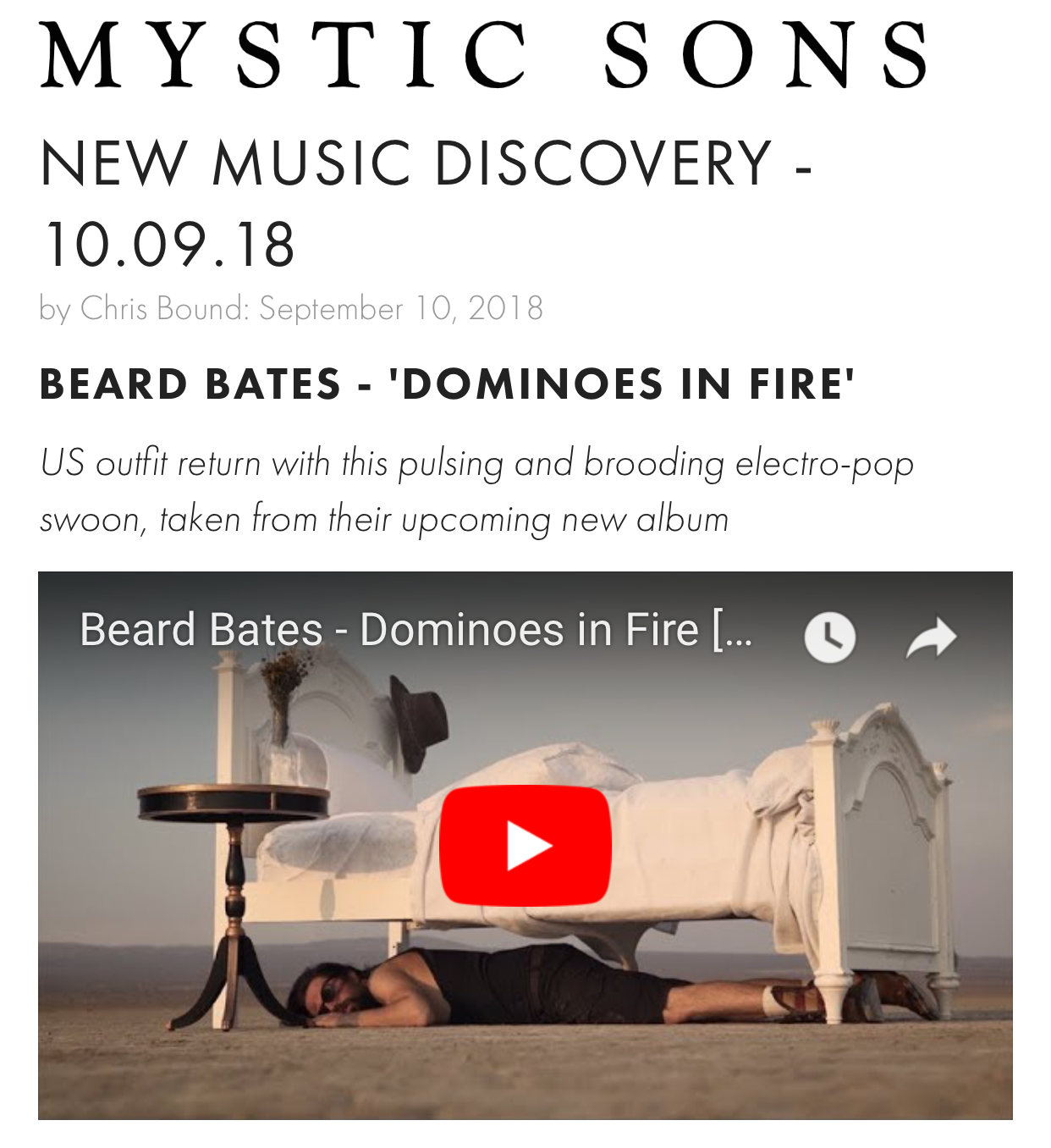 www.comeherefloyd.com | single review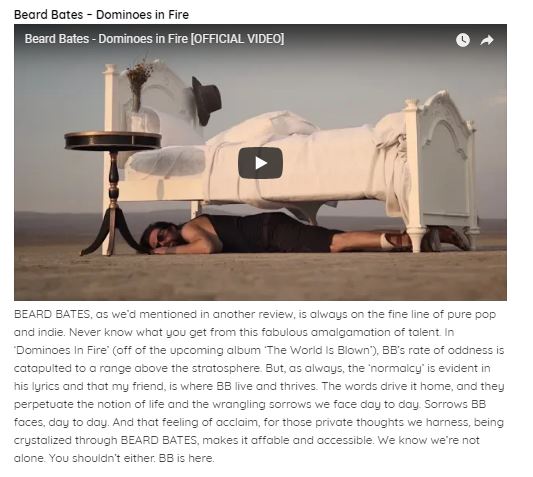 www.lemonademagazine.net | single premiere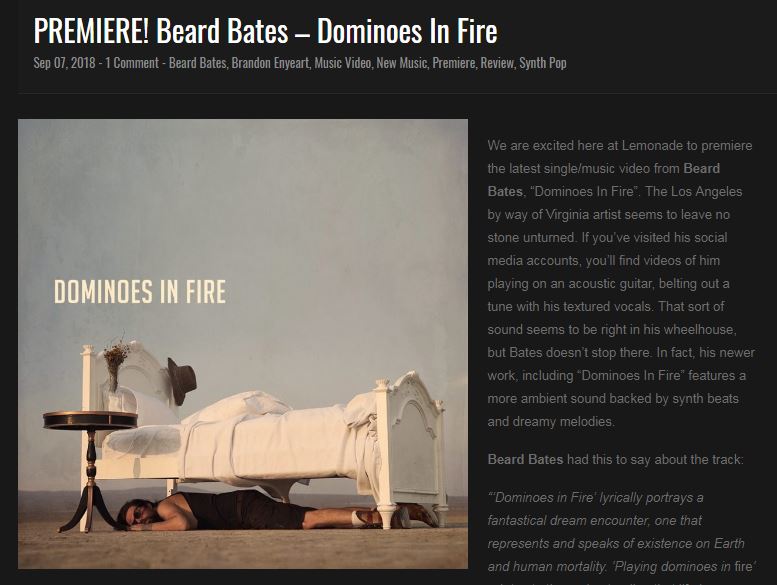 www.hypehype.com | single review
"Beard Bates sounds like if Brad Roberts from the band Crash Test Dummies woke up and met up with Scott Weiland from Stone Temple Pilots and decided to party. A weird way to start a review, but trust me it's true.
Weasel Sleeping is a great track which embodies a 90's vibe as well as some classic rock sounds. Recorded in collaboration with 'The Real Spooky Wilson', a band that features Beard Bates, drummer Kevin Figueiredo (Extreme, Perry Farrell, Chester Bennington, Tantric, Slash) and bassist Chris Mckee."
www.buzzbands.la | video premiere

www.posttowire.com | single premiere

www.gobsmag.com | single feature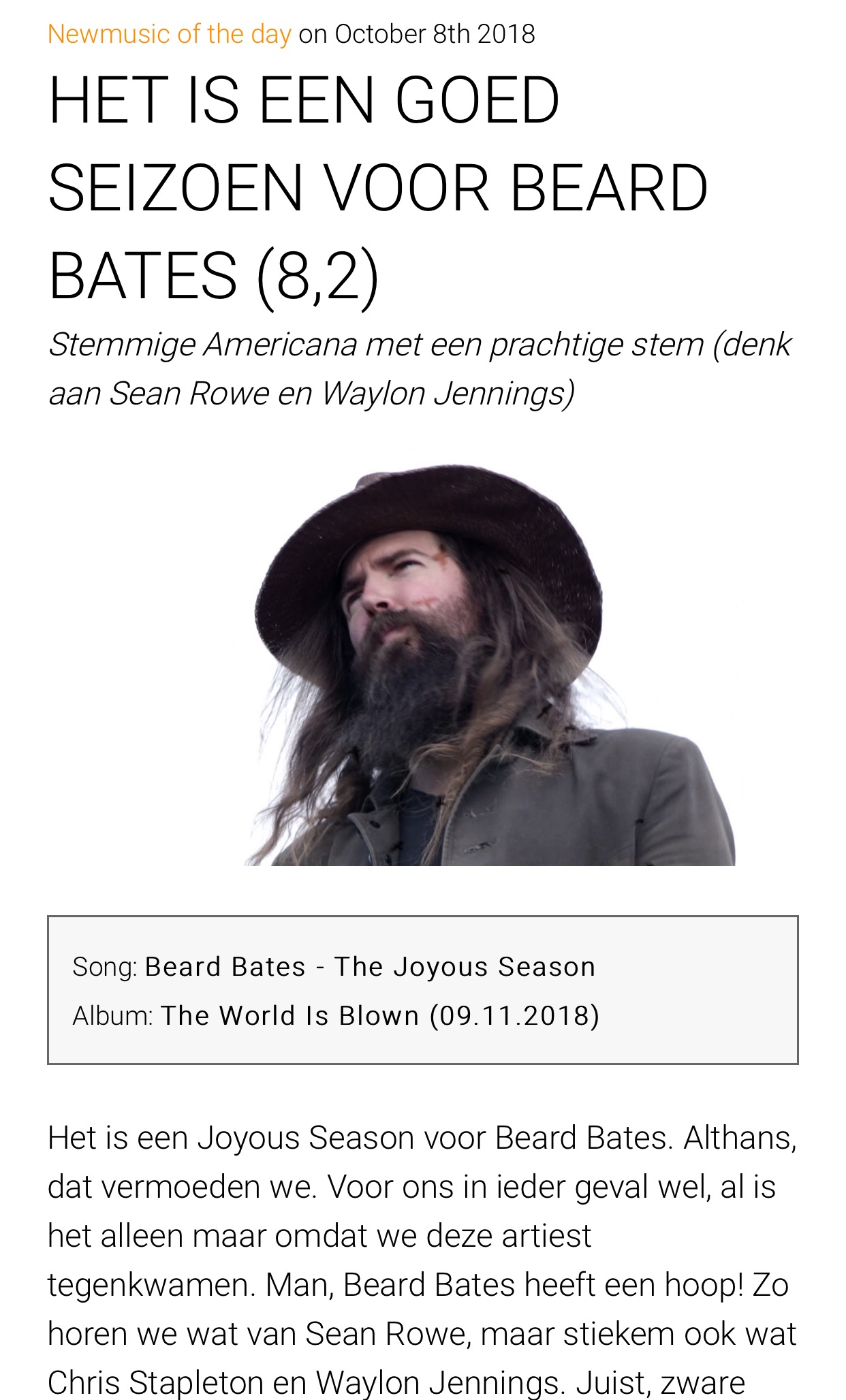 www.darklifeexperience.com | single premiere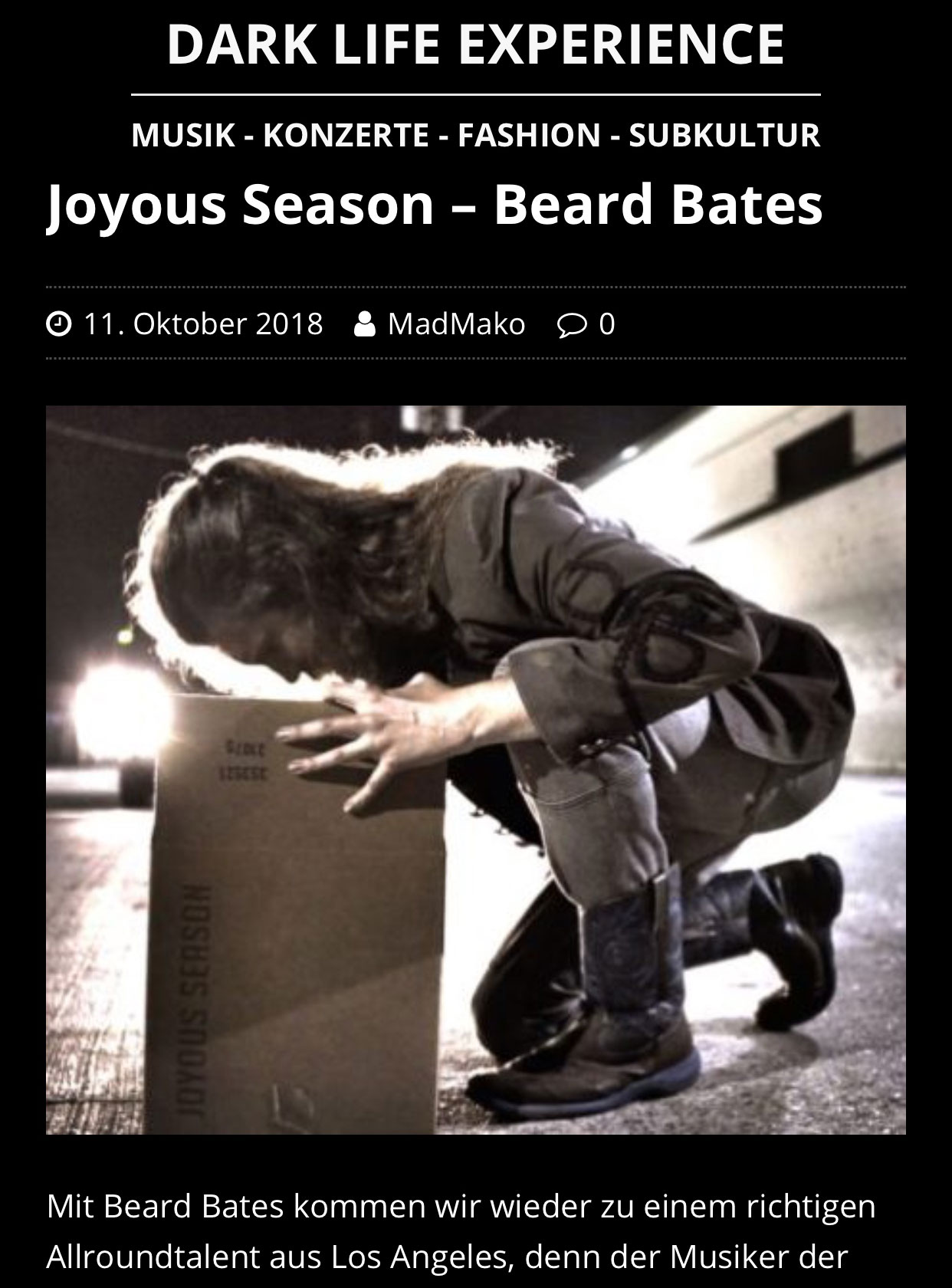 Previous Press:
Heidi Drockelman | www.indie-music.com
"This could be addictive. At this point, I've now been listening to Lightyear's Tightrope for several hours and can't seem to stop pushing the repeat button. And yet, it's not addictive in that sugary sweet pop confection way, but rather in a pseudo-sado world of weird that sometimes infects the brain…This is a brilliant turn by a very talented individual, and Lightyear's Tightrope acts as a collection of short stories by one author. The stories themselves may seem very divided and occasionally incoherent, but a thread of genius runs through them all."
Performing-Songwriter Magazine | www.performingsongwriter.com
"Deliciously weird, unfocussed and murky, Lightyear's Tightrope is a lo-fi collage of wry, biting tunes by Beard Bates. Playing pretty much every instrument from guitars and synthesizers to banjos, sitars and toy keyboards, Bates has pieced together a genre-bending little mind warp. The trippy, swirling "Lost My Hold" is a standout here with its drum loop sounding as if it's banging away at the bottom of a well and Bates' multiple vocal tracks are wriggling around over one another (he even beatboxes a little). He combines his Beck-ish tunes with some accomplished electronic sounds that touch on house and trip-hop and even throws in a couple of hillbilly ravers just to keep you on your feet."
Sonya Brown | www.inmusicwetrust.com
"Possessing enough eccentricity to pull off a mosaic of sounds, ranging from twangy back-mountain banjos to jazzy electro-trance, Beard has successfully engineered a cd worthy of his obvious talents."
Milo Ippolito | Gloomytunes
Beard Bates has enough musical talent to fill a sextet, production skills that defy lofi, and a head swimming with ideas. At 70-plus minutes, Lightyear's Tightrope shows a man clearing his head of what sounds like years worth of musical notions. He bounces between acoustic alt-rock and electronica, dabbles in bluegrass and raga and even strays into Tiny Tim territory on the excellent "Older Woman" which is my favorite track. In a quirky falsetto, Beard takes on the persona of an old lady in a garden reminiscing about youthful romance. What sounds on the surface like a novelty tune turns out to be the most sentimental and melancholy song of the set.
Jack Rabid | www.bigtakeover.com
"My Word…"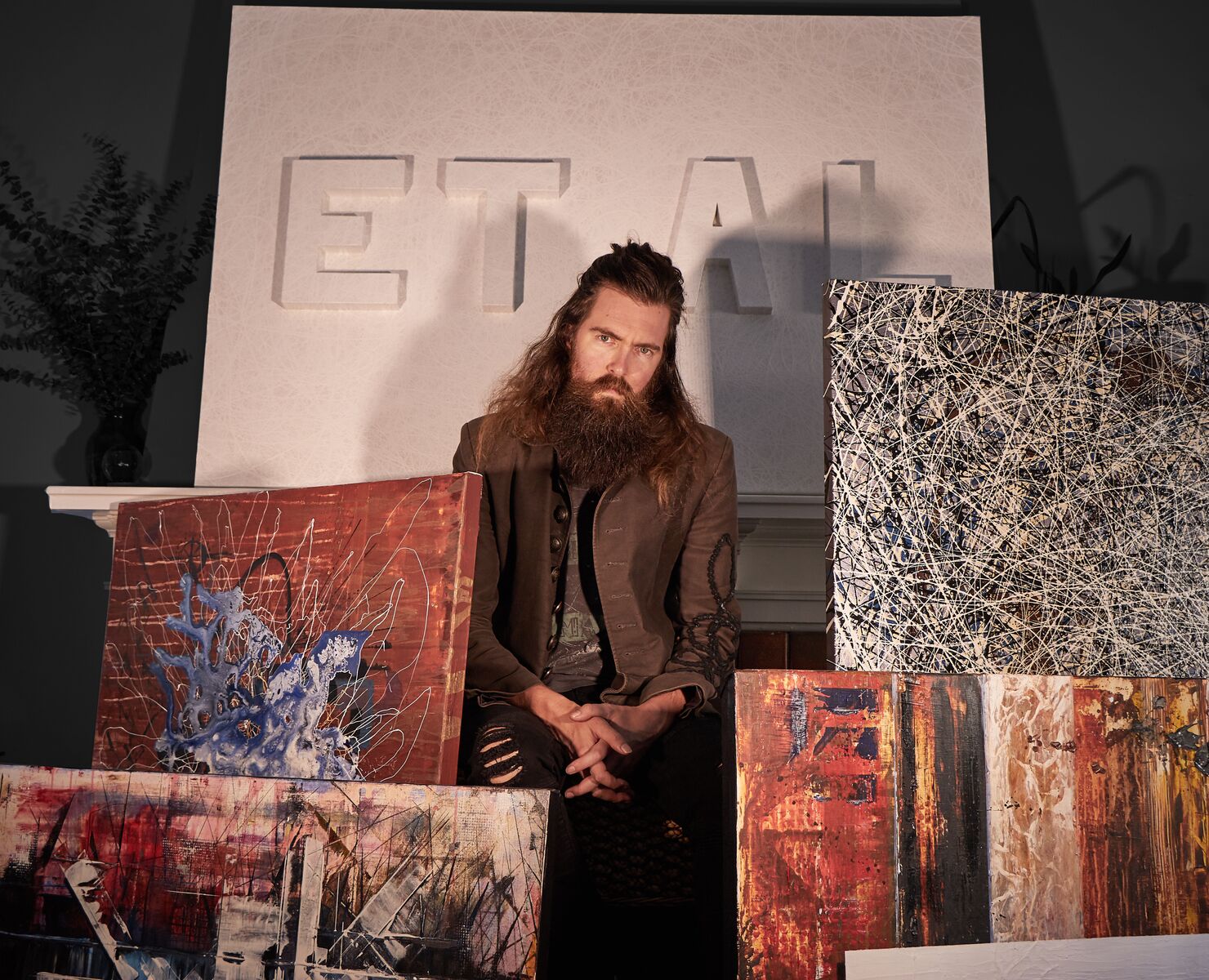 Bio
"I'm an asteroid, built from broken toys….
but I know there's something waiting out there for me."
Born in Virginia, Beard Bates begin writing songs around age nine when he learned basic guitar chords on a tiny guitar his grandfather, a consummate craftsman, made for him. Beard never really learned other people's songs, for "at the moment I would begin to learn a song, creative ideas would excite me too much and I'd end up just spontaneously writing my own songs," he states, "and for this reason I was always just playing my own music." In early highschool, his drummer brother Carter and he formed the alt-rock band JilFlirter, which ended up doing well in college music radio, garnering national attention and was even featured on the cover of Billboard Magazine. Despite record deal offers, Bates, a serial-DIY enthusiast, decided to stay independent and JilFlirter released four further albums; however, there was little to no promotion behind further releases.
Bates studied English Literature in college and subsequently began writing novels, short-stories and much poetry; he did well in college—-graduating second in his class, being awarded many scholastic awards, as well as being nominated for the Rhodes Scholarship. Beard did release his first solo record "Lightyear's Tightrope," a raw and lofi collage of songs recorded above his parent's garage, in 2002, and this record received positive reviews and press. Bates then moved to London, where he ended up entering a graduate program and was subsequently trained to be a contemporary art curator from The London Consortium (Univ London, TATE Modern, ICA); upon returning to the US he again began making music, this time more in the alternative/psychedelic hip-hop realm. Taking production cues from the local VA Beach music scene at the time, he picked up guidance from engineer friends who were working for local producers The Neptunes (Pharrell Williams / Chad Hugo) and Timbaland; at this point Bates built a new home studio and began crafting eccentric rhythmic funk, under the name J.J. DeVille, that perhaps blurs a line between Outkast, Frank Zappa and Beck. Two records were released, yet there was no promotion, and in 2006 Bates moved to Los Angeles and then released a third DeVille record.
In LA Bates ended up fronting and rewriting songs for a psychobilly space-punk band that became known as The Virginia City Revival; this band was made up of players from Bottom 12—popular LA-punk outfit from the 90s–Haunted Garage, and FEAR. The Virginia City Revival released two records, was featured on MTV, has music in Jackass Video games, played extensively around Los Angeles and the Southwest, and even pulled wacky stunts (thanks to the JACKASS member of the band) like crashing the NME awards in drag on a flatbed. During this time, Beard was a member and producer of the band Serial Miller, which released one record; he also formed a band called The Real Spooky Wilson, which recorded one unreleased record, with his bassist roommate and the drummer of Extreme and Perry Ferrell's Satellite Party. He then garnered renewed industry interest in some of his eccentric rhythmic music and thus recorded a new album, under a new name, for this act, which despite having industry heavyweights involved fissled out.
Over the past number of years, Beard has not been playing or putting out much "popular" music, mainly because he has been focusing on ambient recordings, nature field recording, and creating much abstract art; however, he has done a collaboration with the LA posthardcore band The Icarus Line, which will be released on Bates' new record, a collaboration with LA artist Jonny Polonsky, and he released a large collection of iPhone demo recordings in 2016 titled, "Spontaneous Acoustic Songs of Digital Capture by iPhone 5 (2012-2016)," as well as a number of singles, including the campy "Girls in Amish Undertaker Hats" in 2015. 2018 marks the return of Beard Bates as the solo artist with the release of "The World is Blown," his first full length record in many years, which itself is a collection of unreleased songs from a span of years.
Almost Boring Trivia:
"Beard is actually my name," says Bates, "Beard was my grandmother's maiden surname and is my middle name. I'm a II, and my parents did not want a David Jr. and so I have forever been called by my middle name….I'm an expert at explaining my own name–it's probably taken up about 20% of my life I reckon."